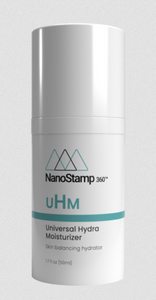 Universal Hydra Moisturizer
Skin balancing hydrator 
50ml
A hydrating and purifying formula filled with antioxidants, making it the perfect cream for all skin types. Its ingredients help to revitalize, nourish and brighten the skin. Whether you have a specific concern or are looking for an everyday moisturizer, this formula is a perfect fit for almost everyone.
Great for all skin types: anti-aging, dry, damaged, sensitive, acne
Directions: Apply to clean skin morning and night.
Key Ingredients:
Hyaluronic acid – attracts and locks in moisture

Copper ferment – strengthens the skin's structure

Niacinamide (a form of Vitamin B) – calming, helps hyperpigmentation, acne, fine lines, wrinkles and reduced inflammation in rosacea and eczema. Regulates oil production. Strengthens skin barrier function. 

CoQ10 – Natural antioxidant, anti-aging, helps cells in building collagen

Vitamin A – regulates and promotes even tones