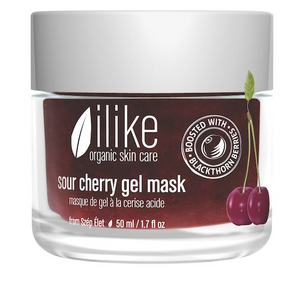 This sweet smelling gel mask contains antioxidant powerhouse sour cherries and blackthorn berries. It is oil-free, and ideal for normal/combination, fatigued, environmentally stressed, open pored skin with vitamin and moisture deficiency.
Effects
skin feels toned, vitalized and hydrated
pores feel tightened
reduces the appearance of dark circles around the eyes
Directions for application
Apply to cleansed skin over entire face and neck area and leave on for 15-20 minutes for optimal results. Remove with a damp face towel. Finish with serum and moisturizer. Use 1-2 times per week or as otherwise directed. Exfoliation increases the effect of masks.
Ingredients
Sour Cherry, Blackthorn Berry, Honey, Algae -- Polyphenols, Amygdalin, Kaempferol Bioflavonoids, Vitamins A, B, C and E, Anthocyanins, Biosugars, Pectins, Fruit Acids, Mineral Salts, Trace Elements