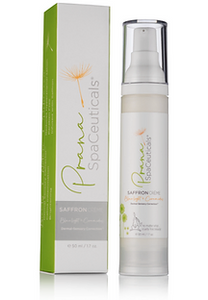 Say goodbye to dull, dry skin! Saffron Cr ème delivers an instant dose of moisture, so your skin can remain fresh and dewy. Saffron, Calendula, Ceramides, and our Dermal Sensory Corrector. ™ This combined technology alleviates neurogenic reactions by accelerating skin's recovery from environmental stressors, reduces hyperpigmentation, calms inflammation, brightens skin, making the whipped moisturizer a perfect recommendation for sensitive skin. 1.7oz.
• Protects skin from inflammation
• Powerful antioxidant complex
• Cellular repair and regeneration
• Moisturizes and nourishes
• Recommended for acne & sensitive skin
• Improves elasticity and the appearance of wrinkles 
Ingredients: Certified Organic Aloe Barbadensis (Aloe Vera), Japanese Green Tea Extract, Shea Butter, Sweet Almond Oil, Apricot Kernel Oil, Cetearyl Olivate, Mango Seed Butter, Sorbitan Olivate, Glycerin, Caprylic/ Capric Triglyceride, Apple Fruit Extract, Crocus Sativus Flower(Saffron) Extract,  Calendula Officinalis Flower Extract, Dextran (and) Palmitoyl Tripeptide-8,  Silk Protein Amino Acid Blend (Sodium L-Pyrrolidone Carboxylate, Sodium Lactate, (L-Arginine, L - Aspartic Acid, L - Pyrrolidonecarboxylic Acid, Glycine, L - Alanine, L-Serine, L-Valine, L-Proline, L-threonine, L-Isoleucine, L-Histidine, L- Phenylalanine ), Ceramide 3, Ceramide 6 II, Ceramide 1, Phytosphingosine, Cholesterol,  Lecithin, Phospholipids, Avocado Seed Oil, Hemp Seed Oil, Linolenic Acid, Jojoba Oil, Sodium Hyaluronate, Rice Bran Extract, Calendula Flower Extract, Elder Flower Extract, Edelweiss Extract, Cucumber Fruit Extract,  Juniper berry and Frankincense, Myrrh, Ivy Extract, Comfrey Root Extract, Rosemary Leaf Extract, Sunflower Oil Allantoin, Tocopherol Acetate, Glyceryl Laureate, Ethylhexylglycerin and Phenoxyethanol.