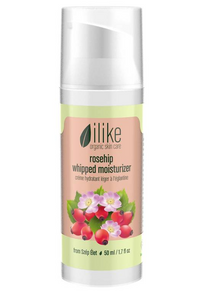 One of our most popular products, this moisturizer contains raw organic rosehip. It is recommended for combination, sensitive or acne prone skin.
Effects
skin feels and looks hydrated and calmed
moisturizes the skin so that complexion looks revitalized
Directions for application
Apply a thin layer of moisturizer over entire face and neck area. Use an ilike serum before moisturizer or enrich moisturizer with an ilike oil concentrate to achieve an even more radiant complexion. Recommended home use is twice a day.
Ingredients
Rosehip, Corn Germ Oil, Lemon Peel Oil, Sunflower Seed Oil, Ascorbic Acid -- Vitamins A, B, C, D, E, K and P, Beta-Carotene (Provitamin A), Fatty Acids, Mineral Salts, Trace Elements