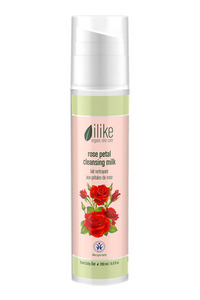 This sweet rose smelling cleansing milk for normal to dehydrated or premature skin types removes impurities and makeup. Created for both face and eye makeup removal. Made with hundreds of red rose petals.
Skin types & conditions
anti-aging for premature skin
cleansers
dry skin
eye care
sensitivity/rosacea
Effects
removes makeup and impurities (including eye makeup)
hydrates and softens the skin
helps to reduce inflammation, sensitivity and redness
Directions for application
Apply to skin over entire face and neck area and massage it in gently with fingertips in circular motions. Wipe off with damp face towel or cotton pad, then follow with a refreshing ilike toner. May be used as an eye makeup remover. Recommended home use is twice a day.
Ingredients
Rose Petal, Corn Germ Oil, Sunflower Seed Oil, Beet, Rose Oil -- Quercetin Bioflavonoids, Tannins, Vitamins A, B, C, D and E, Beta-Carotene (Provitamin A), Fatty Acids, Minerals, Trace Elements