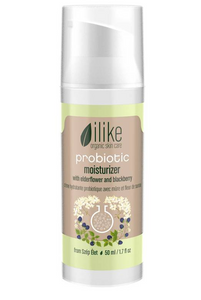 Hydrating and smoothing formula for normal to dry skin that combines healing and cell renewing probiotics and hyaluronic acid with anti-inflammatory, anti-aging, free radical fighting botanicals, and complexion brightening Lactic Acid for a healthy skin microbiome.
Clinically proven results: Probiotic Moisturizer for normal to dry skin softened skin in 100%, and increased the overall condition in 92% of users, while decreasing fine lines by 26% in 4 weeks. 
Effects
helps maintaining a healthy skin microbiome
HA helps restoring moisture and minimizing moisture evaporation
brightens skin complexion
skin looks smoother and well hydrated
Directions for application
Apply a thin layer of moisturizer over entire face and neck area. Use an ilike serum before moisturizer or enrich moisturizer with an ilike oil concentrates to achieve an even more radiant complexion. Recommended home use is twice a day.
Ingredients
Elderflower, Blackberry, Grapeseed Oil, Shea Butter, Lactococcus Ferment Lysate (probiotic), Seaweed, Evening Primrose Oil, Sunflower Seed Oil, Hyaluronic Acid, Red Grape Skin, Ascorbic Acid, Lactic Acid -- OPCs (Oligomeric Proanthocyanidins), Polyphenols, Kaempherol, Quercetin, Anthocyanins, Bioflavonoids, Resveratrol, Vitamins A, B, C, D, E and H, Beta-Carotene (Provitamin A), Fatty Acids, Biosugars, Fruit Acids, Pectins, Tannins, Iron, Mineral Salts, Trace Elements