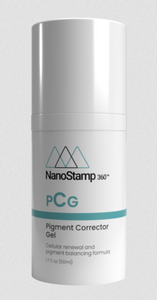 Pigment Corrector Gel 
Cellular renewal and pigment balancing formula
50ml
A powerful combination of 4-Hexylresorcinol, a known tyrosinase inhibitor and niacinamide, a melanosome transfer inhibitor, both of which regulate two different processes involved in the development of skin color to improve the appearance of dark spots and aging skin. 4-Hexylresorcinol is a safer alternative to Hydroquinone with additional benefits including an ability to reduce the appearance of fine lines and wrinkles, increase protection against UVB and UVA rays, and improve the skin's barrier against pollution and sun exposure. 
Directions: Use twice daily on affected areas or all over face.
Ideal for skin brightening,  hyperpigmentation and glycation. Pairs well with Universal Hydra Moisturizer.
Key Ingredients:
Hexylresorcinol – tyrosinase inhibitor, improves hyperpigmentation and glycation.

Niacinamide (a form of vit B) – calming, helps hyperpigmentation, acne, fine lines, wrinkles and reduced inflammation in rosacea and eczema. Regulates oil production.