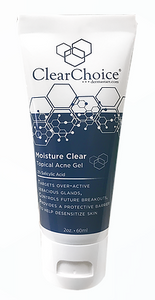 This gel based moisturizer contains 2% Salicylic Acid and natural emollients that are fortified with vitamins and antioxidants. Helping to create a barrier of protection, this beta hydroxy acid penetrates deep within the follicle helping to liquefy trapped sebum (oil) to prevent future breakouts.
• Oily/Acne
• Combination
• Recurring Breakouts
• Rosacea Type II
• All Levels of Acne
• Using Moisture Clear once a day provides emergency relief to recurring breakouts
• Light weight, oil free hydration
• Quick absorbing
• Nutrient hydrating botanicals
• Protection against free radicals
• Increases skin immunity
• Provides a protective barrier to help skin desensitize
• Helps maintain Keratosis Pilaris
Ingredients:
Purified Water (Aqua), Certified Organic Aloe Vera Gel, Dimethicone, Hydrolyzed Wheat Protein, Carboxymethyl Cellulose, Ginseng, Green Tea, Grapeseed Extract, Salicylic Acid, Polysorbate 20, Tocopheryl Acetate (Vitamin E), Ergocalciferol (Vitamin D), Cyanocobalamine(Vitamin B12), Sweet Almond Oil, Phenoxyethanol, Azulene.