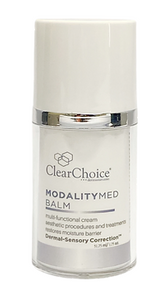 With Dermal Sensory Corrector, this ceramide-rich peptide balm is a complex neurocosmetic that soothes irritated skin and restores a normal sensitivity threshold.  Great for use after intense treatments, or to aid in healing overstressed skin.
1.7oz
• Soothing Neurocosmetic
• 3 Amino Acids Biomimetic Lipopeptide
• Prevents and Reverses Signs of Neurogenic Inflammation
• Multi-functional Cream
• Aesthetic Procedures and Treatments
• Restores Moisture Barrier
Ingredients: Certified Organic Aloe Barbadensis (Aloe Vera), Japanese Green Tea Extract, Shea Butter, Sweet Almond Oil, Apricot Kernel Oil, Cetearyl Olivate, Mango Seed Butter, Sorbitan olivate, Glycerin, Caprylic/Capric Triglyceride, Apple Fruit Extract, Dextran (and) Palmitoyl Tripeptide-8, Dimethicone, Sodium PCA, Potassium Cetyl phosphate, Silk Protein Amino Acid Blend (Sodium L-Pyrrolidone Carboxylate, Sodium Lactate, (L-Arginine, L - Aspartic Acid, L -Pyrrolidonecarboxylic Acid, Glycine, L -Alanine, L-Serine, L-Valine, L-Proline, L-threonine, L-Isoleucine, L-Histidine, LPhenylalanine), Ceramide 3, Ceramide 6 II, Ceramide 1, Phytosphingosine, Cholesterol, Lecithin, Phospholipids, Avocado Seed Oil, Hemp Seed Oil, Linolenic Acid, Jojoba Oil, Sodium Hyaluronate, Rice Bran Extract, Calendula Flower Extract, Elder Flower Extract, Edelweiss Extract, Cucumber Fruit Extract, Juniper berry and Frankincense, Myrrh, Ivy Extract, Comfrey Root Extract, Rosemary Leaf Extract, Sunflower Oil Allantoin, Tocopherol Acetate, Glyceryl Laureate, Ethylhexylglycerin and Phenoxyethanol.