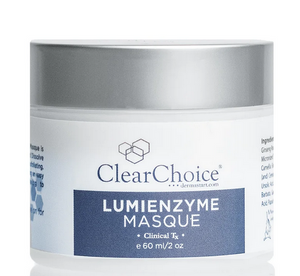 Lumi Enzyme Masque gently purifies, soothes, & clarifies all skin types. This is perfect therapy for Acne, Rosacea, and skin brightening treatments. Contains fortified vitamins & antioxidants to replenish and protect the skin. Skin lighteners prior to treatment will intensify clarity to the skin.
8oz
• Improves appearance of photo aged facial skin
• Controls sebum (oil) production
• Helps to brighten the skin
• Re-textures skin
• Controls breakouts
• Removes (PIH) Post Inflammatory Hyperpigmentation
• Residual acne marks
Ingredients: Purified Water (Aqua), Certified Organic Aloe Vera Gel, Pineapple Extract, Bromelain, Ginseng Root Extract, Chamomile Extract, Papain, Extracts of Chlorella and Centella Asiatica, Micronized Titanium Dioxide, Olive Oil, Glyceryl Stearate, Hyaluronic Acid, Stearic Acid, Green Tea Extract, Wheat Protein Hydrolysate, Cetearyl Alcohol, Ceteareth-20, Vitamin E Acetate, Squalane, Shea Butter, Soy Lecithin, Molasses Extract, Sodium Lactate, Extract of Usnea Barbata, Kojic Acid, Phytomenadione (Vitamin K), Azelaic Acid, Papain Enzyme, Pycnogenol, Grape Seed Extract and Annatto Extract.