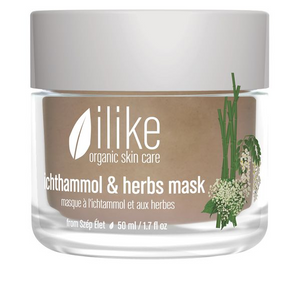 Besides the blissful effects of organic herbs, the wonders of ichthammol benefit oily and acne prone, inflamed or sensitive skin. The paste-textured mask absorbs oils on the skin and leaves skin feeling dry and fresh.
Effects
removes oils on the skin
deeply cleanses pores
skin feels soothed, dry and fresh
helps with inflammation, oiliness and acne
skin doesn't appear shiny
Directions for application
Apply to cleansed skin over entire face and neck area and leave on for 15-20 minutes for optimal results. Remove with a damp face towel. Finish with an ilike serum and moisturizer. Recommended home use is 1-2 times per week or as otherwise directed. NOTE: A warm sensation for 30-60 seconds after application may be felt by clients. This is normal and fades away in a few minutes.
Ingredients
Elderflower, Walnut Leaf, Horsetail, Locust Flower, Lemon Balm, Yarrow, Honey, Zinc Oxide, Corn Germ Oil, Clove Oil, Ichthammol, Zinc Sulphate -- Kaempferol, Quercetin Bioflavonoids, Vitamins A, B, C, D, E, F and K, Formic and Salicylic Acids, Fatty Acids, Alkaloids, Saponins, Trace Elements