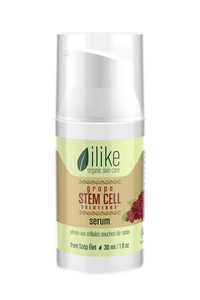 Formulated with red grape stem cells and powerful antioxidants, such as Resveratrol, to help restore a youthful look.
Effects
skin feels hydrated and rejuvenated
reduces visible signs of aging
reduces the appearance of wrinkles
Directions for application
Apply a thin layer of serum as the first hydration step of your treatment. Apply an ilike moisturizer after letting serum penetrate for 30 seconds. Recommended home use is twice a day on entire face, neck and décolleté.
Ingredients
Grape Pulp, Grapeseed Oil, Grape Stem Cells, Grape Skin, Sunflower Seed Oil, Orange Peel Oil, Ascorbic Acid, Lemon Peel Oil -- OPCs (Oligomeric Proanthocyanidins), Polyphenols, Phytoestrogens, Kaempherol, Bioflavonoids, Resveratrol, Vitamins A, B, C, D, E and H, Beta-Carotene (Provitamin A), Fatty Acids, Biosugars, Fruit Acids, Tannins, Mineral Salts, Trace Elements