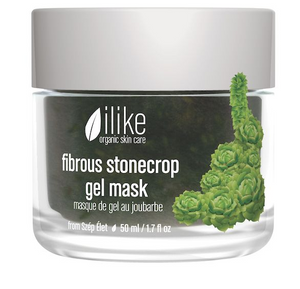 Stonecrop leaves skin feeling calmed and revitalized. The oil-free ilike organic skin care Fibrous Stonecrop Gel Mask reduces the appearance of age related pigmentations as it hydrates. 
Effects
skin feels hydrated, vitalized and nourished
reduces the appearance of hyperpigmentation, age spots, sun damage
Directions for application
Apply to cleansed skin over entire face and neck area and leave on for 15-20 minutes (may be steamed). Remove with a damp face towel. Finish with an ilike toner, serum and moisturizer. Recommended home use is 1-2 times per week or as needed.
Ingredients
Stonecrop, Honey, Ascorbic Acid -- Bioflavonoids, Vitamin C, Citric Acids, Malic Acid, Malonic Acid, Free Amino Acids, Phenol Carbonic Acids, Pectins, Mineral Salts, Trace Elements