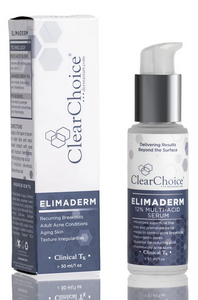 This high performance serum contains a blend of acids suspended in Japanese Green Tea. 12% Elimaderm Serum gently exfoliates dead cells helping to control acne breakouts, minimizing superficial lines and revealing smoother healthier looking skin. Great for all skin types.
• Recurring Breakouts
• Adult Acne Conditions
• Aging Skin
• Texture Irregularities
• Gently exfoliates dead skin cells
• Minimizes superficial fine lines and premature aging
• Helps to control acne breakouts decongests pores
• Superior for reducing post inflammatory acne scars
• Formulated for all skin types
• Oil free
• Anti-bacterial
• Great for Rosacea Types II
Ingredients:
Purified Water (Aqua), Certified Organic Aloe, Japanese Green Tea, Glycolic Acid, Lactic Acid, Salicylic Acid, Mandelic Acid, Methyl Cellulose, Sodium Hyaluronate,d-Pantothenate (Pro Vitamin B5), Azelaic Acid, Pycnogenol, Centella Asiatica, Polysorbate, Sodium PCA.