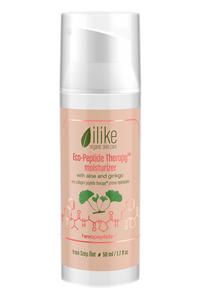 Nourishing and smoothing skin repair moisturizer as second step of daily hydration and a topical skin protection for premature and mature skin that deeply hydrates while helps to reduce wrinkles, increase elasticity and activate collagen production with natural, botanically sourced Hexapeptide-11.
Clinically proven:
helps to reduce signs of aging
helps with collagen production
smoothes wrinkles and fine lines
helps to prevent wrinkle formation
antioxidant and vitamin supplement
skin feels intensely and deeply hydrated
works for improved elasticity feel of the skin
has soothing effect
Directions for application
Apply a thin layer of moisturizer over entire face and neck area. Use an ilike serum before moisturizer or enrich moisturizer with an ilike oil concentrate to achieve an even more radiant complexion. Recommended home use is twice a day.
Ingredients
Aloe, Ginkgo, Grapeseed Oil, Corn Germ Oil, Calendula, Yarrow, Pea Peptide, Hexapeptide-11, Hyaluronic Acid, Sunflower Seed Oil, Chlorophyll -- Antioxidants, Beta-Carotene (Provitamin A), Vitamins A, B, C, E and F, Amino Acids, Fatty Acids, Mineral Salts, Trace Elements