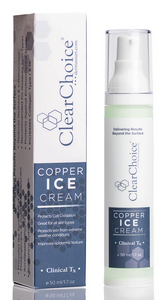 CopperICE Cream maintains its natural bio-protective properties and promotes keratinocyte growth with fibroblast adhesion for a skin regenerating effect. Using daily will enhanced wound healing, skin firmness, elasticity, reduces the appearance of wrinkles, and promotes cellular turnover.
• Cell Communicating Ingredients
• Great for all skin types
• Accelerated healing properties increasing collagen & elastin production
• Prevents dryness
• Protects skin from extreme weather conditions
• Improves epidermis texture
Ingredients:
Purified Water (Aqua), Certified Organic Aloe Vera Gel, Camellia Sinensis Leaf Extract (Green Tea), Sodium Hyaluronate, USP Glycerin, L-Ascorbic Acid (Vitamin C),Tocopherol Acetate (Vitamin E), Ferulic Acid, Copper Gluconate, Pseudoalteromonas Ferment Extract, Butyrospermum Parkii (Shea) Butter, Azulene, Pantothenic Acid, Polygonum Avicular Extract, L-Cartitine, Super Oxide Dismutase, Leontopodium Apinum Extract, L-Ergothionine Bambusa Vulgaris (Bamboo) Extract, Panthenol (Vitamin B5), and Ergocalciferol (Vitamin D), Tocopheryl Acetate, Linoleic Acid, Watermelon Extract, Cyanocobalamin (Vitamin B12), Phenoxyethanol.