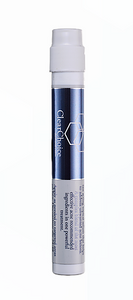 This  "on the spot" treatment is highly advanced to treat unwanted acne lesions. Clinical Spot helps to attack bacteria, improves texture, prevents follicular blockage, minimizes discoloration, aids in healing, and increases the skin's immunity.
• Acne Conditions
• Eliminates Future Breakouts
• Prevents -PIH Post Inflammatory Hyper-pigmentation
• Combats Bacteria
• Prevents future follicular blockage
• Controls Sebum Levels
• Aids in healing
• Prevents discoloration
• Resurfaces the skin
Ingredients:
Vitamin A, Benzoyl Peroxide, Blend of Acids, Centella Asiatica, Pycnogenol, Rice Starch, Vitamin C, Lysine, Vitamin D, Ubiquinone, Green Tea, Certified Organic Aloe Vera Gel, Kojic Acid, Palmitoyl Tetrapeptide-7, Slippery Elm, Echinacea, Alpha / Beta Glucan, Quercetin Edelweiss.