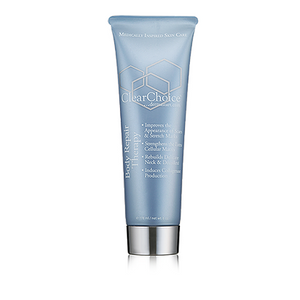 This highly active cream assists in accelerating cell reproduction, promotes fiber network restructuring to ensure skin's elasticity is maintained. Body Repair Therapy stimulates collagen synthesis and reinforces extra cellular scaffolding to achieve better cohesion, suppleness and skin tone.
• Improves the Appearance of Scars & Stretch Marks
• Strengthens the Extra Cellular Matrix
• Rebuilds Delicate Neck & Décolleté
• Induces Collagenase Production
Ingredients: Certified Organic Aloe Vera Gel, Shea Butter, Allantoin (5 Ureidohydantoin or Glyoxyldiureide), Xantham Gum, Glycolic Acid,  Lactic Acid, d-Pantothenate (Pro-Vitamin B5), Jojoba Oil, Marigold Extract, Ivy Extract, Avocado Oil, Centella Asiatica Extract, Sunflower Oil, Horsetail, Retinol, Carbomer, Butylene Glycol, Palmitoyl Tetrapeptide-7, Polysorbate 20.