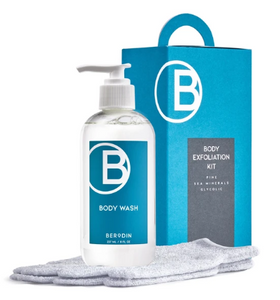 Berodin Body Wash and exfoliating gloves leave your skin refreshed and perfectly clean. Glycolic gently exfoliates and helps prevent bumps and ingrown hairs, making this the perfect daily body wash before and after waxing services. The natural benefits of Pine Essential Oil clean and condition the body while refreshing and energizing the mind. Bladderwrack contains Sea Minerals that nourish and prevent dryness.
8oz
Key Ingredients:
Pine Essential Oil: An antibacterial oil that helps energize the senses and hydrate the skin.
Bladderwrack Seaweed: A sea plant rich in detoxifying minerals that help nourish and balance.
Glycolic Acid: An alpha-hydroxy acid that boosts turnover and brightens by exfoliating the skin.