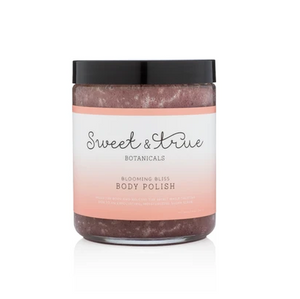 Relax the body and release the spirit while treating skin to an exfoliating, moisturizing sugar scrub. The blend of therapeutic grade essential oils in Blooming Bliss promotes relaxation and tranquility. Floral notes of lavender, geranium and delicate rose petals are balanced with subtle warming marjoram calm both the senses and dry, flaky and problematic skin.
8oz.
Details  
Coconut Oil –smooths, retains moisture, antioxidant properties help combat signs of premature aging
Shea Nilotica Butter –emollient, hydrating, moisturizing and skin-regenerating
Rose –pore tightening, improves appearance of skin texture and tone
Lavender Oil –reduces redness, regulates skin functions and skin-regenerating
Marjoram –soothing, calming and anti-inflammatory 
We believe that anything you put on your skin should be safe enough to eat and help make the world a better place. We partner with leading chemists, herbalists and aromatherapists to utilize ethically-sourced botanicals and gentle active ingredients that are scientifically-proven to balance the skin.
All of our products are produced in small-batches right here in Walnut Creek, California to ensure the highest level of quality control, and are 100% cruelty-free.
Usage
Warm body polish between your palms and massage in circular motion onto damp skin.
Ingredients
Sucrose (Sugar),* Coco Nucifera (Coconut) Oil,* Vitellaria Nilotica (East African Shea) Butter,* Helianthus Annuus (Sunflower) Seed Oil,* Rosa Damascena (Rose) Flowers,* Rosmarinus Offcinalis (Rosemary Extract),* Lavandula Angustifolia (Lavender) Flower Oil,* Pelargonium Asperum (Geranium) Flower Oil,* Origanum Majorana (Marjoram) Oil
*Certified Organic Ingredient