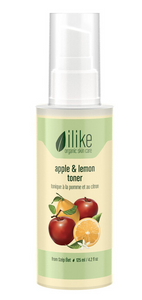 Apple and Lemon have cleansing and purifying effects. The combined properties of these key ingredients leave the skin with a brighter and vitalized complexion. 
Effects
cleanses
hydrates
refreshes
skin feels toned
complexion appears brighter and feels refreshed
Directions for application
To hydrate: simply spray toner onto the skin (several times a day). To cleanse: apply toner over entire skin surface with a cotton pad and leave on. Use after cleansing milk or mask to remove excess products. Follow with an ilike serum and moisturizer.
Ingredients
Apple, Lemon, Ascorbic Acid, Lemon Oil, Peppermint Oil -- Vitamins A, B, C, D, E and K, Fruit Acids, Citric Acid, Alpha-Hydroxy Acids, Malic Acid, Pectins, Bioflavonoids, Polyphenols, Fatty Acids, Fructose, Polysaccharides (Carbohydrates), Mineral Salts, Trace Elements