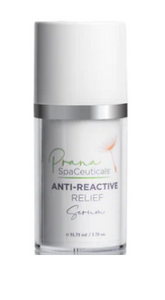 Anti-Reactive Relief Serum is a complex blend of therapeutic botanicals that reprograms the skin to resist oxidized stress. This treatment corrects at the optimum levels of the underlying cause to help defend delicate skin from breakdown and sensitivity.
1oz
• Relief for over processed skin & reactive skin types
• Helps resist inflammation
• Encourages natural cell growth
• Reprograms underlying skin concerns
• Soothes & reduces redness
• Conditions & firms skin
Ingredients: Certified Organic Aloe Barbadensis Juice, Sodium Hyaluronate, Sunflower Oil, Hibiscus Flower Extract, Argan Oil, Rosehip Seed Oil,Coenzyme Q10, Tocopherol (Vitamin E), Ascorbyl Palmitate (Vitamin C Ester), Niacinamide (Vitamin B3), Methylsulfonylmethane (MSM), Spent Grain Wax, Isomerized Linoleic Acid, Behenic Acid, Palmitoyl Tripeptide-5, Calcium, d-Pantothenate (Pro-Vitamin B5), Beta Carotene (Pro Vitamin A), Dimethylaminoethanol (DMAE), Lecithin, Xanthan Gum (Polysaccharide), Rosmarinus Officinalis (Rosemary) Oleoresin, Azadirachta Indica (Neem) Oil, Phenoxyethanol, Citric Acid, Fruit Extract.